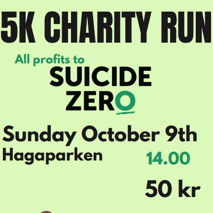 5K charity run ETC x IdrU
Donate
Created By:

ETC x IdrU

Collecting for:
5K charity run ETC x IdrU
Celebrate
World Mental Health Day
by exercising while supporting Suicide Zero!
The sports committee (IdrU) and the Equal Treatment Commission (ETC) at Medicinska Föreningen organize a 5k run in
Hagaparken
on the
9th of October at 14.00
. Donate at least 50kr to confirm your registration.
Please WRITE YOUR FULL NAME in the "personal message" box, otherwise your sign-up won't be validated.
Thank you for supporting this very important cause!
Sign-up form for the run:
https://forms.gle/Z8NykZn2ZfHaBuNdA
Claudia Ferrer

donated

50 kr

Aida Rohi

donated

100 kr

Lena Wikund

donated

50 kr

Zoé Horisberger

donated

50 kr

Dennis Eriksson

donated

50 kr

Aili Maimaiti

donated

50 kr

Hope this helps for a positive outcome.

David, Orsolya Li

donated

100 kr

Felicia Holm

donated

50 kr

Fredrik Johansson

donated

50 kr

Federico Picciau

donated

50 kr

Lotte Heimes

donated

50 kr

Thanks for organizing this :)

Oliver Midbrink

donated

70 kr

Rosa Radmann

donated

50 kr

Flora Noelle Wiegand

donated

50 kr

Felix Holmquist

donated

50 kr

Edvin Monemi

donated

50 kr

Josef Al-Khalili

donated

50 kr

Josef Al-Khalili

donated

50 kr

Matteo Titus

donated

100 kr

Edvin Monemi

donated

50 kr

Johanna Lindell

donated

50 kr

Kristina Hellström

donated

50 kr

Karin Persson

donated

50 kr

Zorka Balogh

donated

50 kr