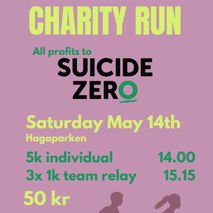 Created By:

Alana Vannay

Collecting for:
IdrU Charity Run
Support Suicide Zero and challenge yourself at the largest sport event at KI this spring! The run will take place on the 14th of May in Hagaparken.
Donate at least 50kr to validate your sign-up on 5k.
Sign up for 5k
Donate at least 150kr to validate the sign-up of your team on the relay 3x1k (1 donation per team).
Sign up your team for 3x1k relay
Please write your full name or team name followed by "5k" or "relay" in the comment.
Feel free to donate even if you don't want to join the run!
More information on our
Facebook event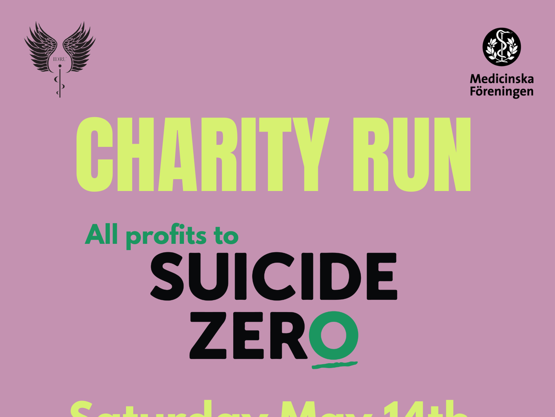 Donate
Alana Vannay donated 100 kr
Anonymous User

donated

50 kr

Alana Vannay

donated

100 kr

Fredrik Ericsson

donated

100 kr

Emelie Kittlesen

donated

30 kr

Maria Eleni Fafouti

donated

50 kr

From Marlen and Carlos ❤️

M Macak

donated

20 kr

Grégoire Mercier

donated

20 kr

Adrian Sanchez

donated

50 kr

Amélie August

donated

30 kr

Krzysztof Jurdzinski

donated

50 kr

Callum Regan

donated

20 kr

Grim Olivecrona

donated

100 kr

Andreas Brutscher

donated

50 kr

Claudia Ferrer Aumatell

donated

50 kr

Good job for organising this initiative!

Marcelo Afonso

donated

50 kr

Malin Book

donated

50 kr

Christoffer Bredolo

donated

50 kr

Rakel Matthíasdóttir

donated

150 kr

Diana Rubalcava

donated

100 kr

Alexander Kloosterman

donated

50 kr

Christoffer Bredolo

donated

50 kr

Zakarias Hallstedt

donated

50 kr

Francisco Esteves

donated

50 kr

Kajsa Amnehagen

donated

50 kr