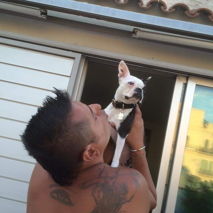 In Memory of Anton Hijo del Sol
Donate
Created By:

Aleksandra Avli

Collecting for:
In Memory of Anton Hijo del Sol
For the memory of Anton Canales del Rivera.

A warm son, a supporting brother, a giving friend and forever reminding us all about the good heart that shines in other people.

This fundraiser is made by the love that every day surrounds Babba, Loretto, Dani and Antonio and the presence you have with them, and they with you.

"Sometimes I need to close the world and open the next"
Donate
Aleksandra Avli donated 500 kr
Lauren Devereux

donated

500 kr

Your spirit lives on through those who love you.

James Rahardja

donated

500 kr

Ellen Kvarby

donated

500 kr

Mayssa Chehata

donated

250 kr

Marika Frumes

donated

300 kr

W B

donated

100 kr

Anonymous User

donated

5,000 kr

Your light shines on through each of us, illuminating the work we do & reminding us the importance of showing up for one another daily. Love from Brooklyn, Team Kin

Anonymous User

donated

100 kr

Valerie Graves

donated

300 kr

Jacq Tatelman

donated

300 kr

Uli Schoeberl

donated

500 kr

Never forget, spice up your life

Azra Osmancevic

donated

500 kr

F J

donated

50 kr

Manning Family

donated

500 kr

Michaela Wissen

donated

300 kr

Rike Döpp

donated

500 kr

Sanna Livijn Wexell

donated

150 kr

Cronja Hultin

donated

1,000 kr

Cristina Fernandez

donated

108 kr

Birk & Klara Jernström

donated

1,000 kr

Tove Lund

donated

500 kr

Isabelle och Eddie

donated

500 kr

Hanna MW

donated

500 kr

Lill Waldekranz

donated

500 kr