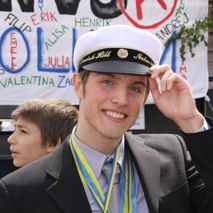 Skapad av:

Kasper Hill

Samlar in till:
In Memory Of Fredrik Hill
A letter from My Mother's fundraiser:
Hi all my friends.
You all know that I lost my 22-year-old son on a fateful Maundy Thursday a few years ago.
Why? In fact, we do not know and we have only guesses.
Unrequited love? A depression we missed? The questions are many and no answers.
The loss is still stunning between laps.
We as a family have gone through the grief in different ways.
We have survived and decided to LIVE our lives with all that life gives us in the form of joy and all the fond memories.
Suicide Zero does a fantastic job.
In today's society when it comes to saving on psychiatry, their job is even more important.
Please give a small Easter gift in Fredrik's memory to help someone else.
Every wasted life is a pure social catastrophe.
Thanks!
You can find her Fundraiser here:
https://egeninsamling.suicidezero.se/en/fundraiser...
Anonym användare

donerat

5 000 kr

Bounty 07

donerat

300 kr

Slf kid

donerat

150 kr

hybribad 200m chuck

donerat

1 000 kr

Claire c

donerat

500 kr

not much but hope it help u kasper love u

Puggin B)

donerat

200 kr

Devin !

donerat

300 kr

You're still a snake but the charity isn't

Stellar Technologies Inc

donerat

1 000 kr

Cosmic whale

donerat

300 kr

Personally supported by this and similar endeavours.

JIlly Fish

donerat

1 000 kr

Zulu Twitch

donerat

750 kr

Dragon imps be hurtin the bank, but it's all for a good cause

Zulu Twitch

donerat

500 kr

Wish I could stay but busy day, great thing you are doing and good on the community to take part!

chaffed Lips

donerat

4 000 kr

The Xin

donerat

1 000 kr

Milan =]

donerat

150 kr

Anonym användare

donerat

300 kr

Im so proud of you for doing something like this, love you always beast

Able Dog

donerat

300 kr

Marius Roland

donerat

100 kr

Cinny & Limiq

donerat

500 kr

Cinny Buns

donerat

500 kr

Issa Evmiiister

donerat

1 000 kr

Yooooooo min slem always happy to donate toward a good cause.

IDude Man

donerat

100 kr

pintings s

donerat

175 kr

Theo 111

donerat

100 kr